Delta Liquid Energy – A History
1936 Harry and Iva Platz begin a small propane distribution company from their home and garage in Atascadero, CA. Harry is assisted by his then 15 year old son Joseph. The business consists of one pickup truck delivering 25 gallon cylinders of butane to homes in the local area. The company also sells water heaters and cook stoves that consume butane.
1940 Harry passes away due to tuberculosis. Iva and Joe continue to grow the business from the family home.
1942 Iva meets Louis Marx and the couple eventually weds. Lou joins the organization and helps continue its growth.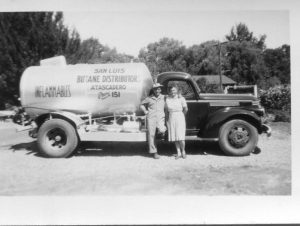 1953 San Luis Butane Distributors (SLBD) is re-organized as a California corporation. The business is relocated from a residential location to a commercial property on the north side of Atascadero along the major highway. Propane is added to the product offerings. The new location sports an appliance show room where customers can see and order water heaters, room heaters, cooking appliances, washers and clothes dryers. Returning from serving in the Korean war, UCLA Grad and Harry and Iva's second son, Frank Platz, joins the family business.
1958 Frank and Joe purchase 100% of the shares of San Luis Butane Distributors from Lou and Iva Marx.
1960 The company establishes a second location in Cambria, CA. At the time, the only way to get to this sleepy coastal town is traveling two hours along a two-lane highway. The community was not served by natural gas lines and the Platz brothers saw this as a tremendous growth opportunity.
1962 SLBD joins Pacific Delta Gas, a buying co-op for the supply of propane and butane. Using the name and branding of Pacific Delta Gas (PDG), SLBD starts transporting wholesale propane for its fleet of propane delivery trucks and for other independent propane marketers that were a part of PDG.
1966 Southern California Gas Company extends service to the coastal communities of Morro Bay, Los Osos, Cayucos and Cambria. It will be another ten years until the communities are no longer in need of propane within town boundaries. However, growth opportunities in the area are stifled. SLBD acquires the Cayucos, CA branch of its original supplier (DOXOL Propane) and consolidates the coastal propane market. In this same year, PDG is purchased by PARGAS. Rather than following their PDG partners, San Luis Butane chooses to branch out on its own and is not acquired in the sale.
1968 The company acquires Atlas Gas Service of Buellton, CA. San Luis Butane has grown its service territory from Big Sur, CA to Santa Barbara, CA.
1974 SLBD expands its wholesale transportation services and begins hauling propane for not only its own branch network but a growing network of PARGAS locations as well.
 1982 SLBD acquires former customer and local retail supplier John's Propane of Arroyo Grande, CA.
1985 SLBD continues hauling and supplying propane to refineries and smaller propane retailers throughout California. The transportation company has grown to eight transports.
1986 The third generation of the Platz family, Cal Poly grad William Platz, joins the company. The shares of SLBD owned by Joe Platz are purchased and retired. Frank Platz subsequently owns 100% of San Luis Butane Distributors. The corporate office location of SLBD is moved from Atascadero, CA to Paso Robles, CA. Sensing an opportunity for substantial growth by acquisition, SLBD proceeds to purchase Hills Propane of Barstow CA, Clark Propane of Santa Paula, CA and forms Goal Propane in Lake Elizabeth, CA.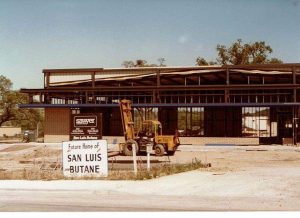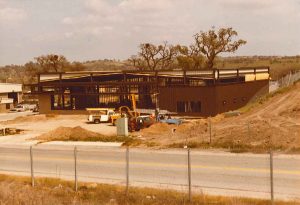 1987 SLBD purchases Imperial Propane near Brawley, CA.
1988 SLBD purchases Cosme's Propane of Blythe, CA as well as the transportation division of Buck's Propane in San Jose, CA. SLBD becomes the California transporter for all of the Buck's Propane divisions.
1989 Frank Platz's daughter, Cynthia Belmont, is the second of the third generation of Platz's to join the family business. SLBD spins its wholesale supply and transportation division into a stand alone entity, Pacific Energy Group (PEG). This company adds investors and expands its product mix into gasoline and diesel. It also acts as 100% supplier to the SLBD retail division (Delta Liquid Energy). SLBD retains 33% equity in PEG.
1990 SLBD sells the Imperial Triangle locations in Blythe, Imperial and Indio, CA to Petrolane Gas Service.
1992 PEG ceases operations due to commodity collapse. SLBD re-assumes a marginal wholesale role to supply its retail divisions.
1994 SLBD sells eastern portion of its Barstow retail presence to Silver Valley Propane. SLBD sells western portion of its Barstow retail presence to Northern Energy, Inc.
1995 SLBD purchases Santa Paula retail location and customers from Empire Gas Service. Existing retail operations are blended into the Empire plant location.
1998 SLBD purchases the assets and business of MTK Propane in Bakersfield, CA. The business is operated as a stand-alone district of Delta Liquid Energy.
2002 SLBD purchases the business and assets of Fischer Propane of Visalia, CA. The business is operated as a stand-alone district of Delta Liquid Energy.
2004 SLBD purchases the business, real property and other assets of US Liquid Energy, Inc. of Los Angeles, CA. This business is folded into existing DLE operations both in Pomona and Sylmar.
2007 SLBD completes construction of the Santa Maria, CA retail plant and rail transloading facility. Atlas Gas of Buellton, CA and Johns Propane of Arroyo Grande, CA are merged into the new Delta Liquid Energy of Santa Maria, CA location.
 2013 SLBD spins out the eastern portion of its Bakersfield, CA retail division into a stand alone retail operation in Lake Isabella, CA. This becomes the ninth DLE retail operation. This year also brings about the purchase of a piece of industrial property in North Las Vegas, NV. The construction of an 180,000 gallon distribution facility for AePEX Energy's growing customer portfolio follows soon afterward.
2014 SLBD spins out its existing wholesale division into a stand alone company called AePEX Energy. AePEX expands its sale territory into Utah, Nevada, New Mexico and Arizona. AePEX remains 100% owned by SLBD.
2016 Delta Liquid Energy opens a retail operation from its North Las Vegas distribution facility to serve commercial and autogas customers in southern Nevada. The fourth generation of the Platz family, Tricia Cardenaz and Allison Velazquez, also join the Delta Liquid Energy team this year.
2018 Delta Liquid Energy leases temporary commercial space in Tehachapi, CA to start retail operations in the area. Previously, this area was serviced from the Lancaster, CA and Bakersfield, CA locations. Property is acquired by DLE for the eventual development of a local retail distribution facility in Tehachapi, CA. Additionally, this year marks DLE's exit of the Los Angeles basin market. As of 2018, the company portfolio includes nine retail locations and three wholesale distribution facilities.