At Delta Liquid Energy (DLE) we strive to be active supporters of all the communities we service. Sponsoring local organizations with our time and resources is a big part of our company culture. Below are just a few of the local organizations we sponsor and contribute to. Please contact us for more information about how we may be able to help your organization. Let's work together to give back to all the communities Delta Liquid Energy services!
Annual Holiday Drive: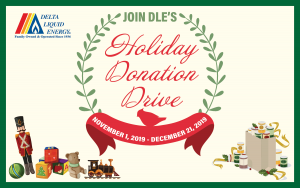 Join DLE in our mission to help make the holidays brighter for those in need! DLE partners with local nonprofits each year to collect food items, toys, and/or coats to be donated to members of our communities. Please check back for updates on each location and what items they will be collecting in the weeks leading up to the holidays. In 2019, we were happy to contribute to the Toy Bank of Greater Paso Robles, the Community Action Partnership of Kern County, Friends of Tulare County, the Food Bank of Santa Barbara County, and the Salvation Army.
Please join us at each of our Delta Liquid Energy locations this year:
Paso Robles, CA is accepting donations of new and unwrapped toys for children of all ages.
Bakersfield, CA is accepting canned and boxed foods. Please no refrigerated items.
Lake Isabella, CA will be joining our Bakersfield location in their collection of canned foods, nut butters, and dried foods.
Farmersville, CA is accepting new and unwrapped toys for children of all ages.
Santa Maria, CA is accepting financial donations via this web link
Tehachapi, CA is accepting gift cards and warm clothing for teens and young adults.
Lancaster, CA is accepting new and unwrapped toys for elementary aged children.
Santa Paula, CA is accepting new and unwrapped toys for elementary aged children.
Future Farmers of America and 4-H: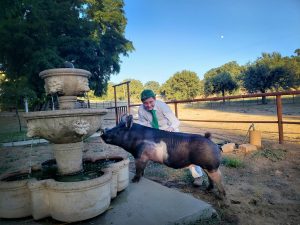 Every year Delta Liquid Energy strives to encourage the youth in San Luis Obispo County to pursue agricultural education. The responsibility of raising an animal for show is no easy feat; by sponsoring some of these kids and their animals Delta Liquid Energy shows support for their futures. A live auction is held at The California Mid State Fair every year. At this annual event, Delta Liquid Energy bids on steers, lambs, hogs, and more. All meat acquired by Delta Liquid Energy is donated to local food banks once the auction is complete.
Local School Sponsorships:
Delta Liquid Energy is proud to sponsor many school and youth activities in all the communities that we service. Youth sports leagues, booster clubs, and parent-teacher associations are all organizations we are happy to support.