We're all sticking to a strict budget right now, but that doesn't mean we have to sacrifice great family meals. At DLE, we are serving up some great weekend grilling (or baking) ideas that are delicious and on budget. These meals can be made for $5.00 or less per serving! With the weather warming, we have more excuses to enjoy our backyards by grilling up dinners that the whole family will enjoy. Each of the recipes below are intended to feed 3 to 4 people.
#1 – Grilled (or baked) Sausage Foil Packet Dinners
These fun all-in-one dinners are super easy – set it and forget it. This recipe from Mashup Mom uses Italian Sausage, baby potatoes, bell peppers, and onions with lots of seasoning included. This same concept can be accomplished with any sausage or veggies you like.
Ingredients
20 oz. of your sausage of choice (Italian, Kielbasa, Andouille)
24 oz. baby potatoes, quartered
1 bell pepper of choice, roughly chopped – about 1 inch cubes
1 medium yellow onion, roughly chopped – about 1 inch cubes
Your choice of seasonings – we suggest Italian seasoning, salt, pepper, crushed red pepper flakes, garlic powder, and onion powder
2 Tbsp olive oil
Directions
This recipe should make about four to five packets. Lay out four to five pieces of tinfoil, large enough that all ingredients will be fully covered when tinfoil is folded over itself.
Toss all veggies together with olive oil and all seasonings in a large bowl.
Evenly distribute the sausage and veggies amongst all of your tinfoil then fold tinfoil up to make completely closed packets.
On the Grill: grill packets on medium high heat. Keep grill closed and cook for 25-30 minutes.
In the oven: preheat oven to 425 degrees. Bake packets in preheated oven for 30-35 minutes.
The bell peppers can be switched for other veggies of your choice – green beans, zucchini, yellow squash, sweet potatoes all work great too.
#2 – Kebabs
Kebabs are another quick meal that allows everything to cook all at once. These can also be made with different combinations of meat and veggies – however you like them! Two of our favorite combos are below. We recommend serving both kebab styles with freshly steamed rice.
Hawaiian Teriyaki Chicken Kebabs
Ingredients – Marinade
2 Tbsp brown sugar
1 Tbsp honey
¼ cup soy sauce
¼ cup olive oil
3 cloves finely chopped or pressed garlic OR ½ tsp of garlic powder
1Tbsp of freshly grated ginger OR ¼ tsp of ginger powder
1 tsp sesame oil
Ingredients – Kebabs
1 ½ – 2 lbs boneless, skinless chicken breasts – cut into 2 inch chunks
(You can also use boneless chicken thighs just be aware that you may need to increase grilling time and decrease grill temperature)
Fresh pineapple, cut into chunks
2 green bell peppers, cut into 1 inch chunks
1 red onion, cut into 1 inch chunks and layers separated
Wooden skewers
Directions
Combine (whisk) all marinade ingredients in a shallow dish or bowl. Set a small amount of marinade aside to baste your skewers while grilling. After you've cut up chicken, add it to the remaining marinade. You can either put the chicken and marinade in a zip lock gallon size bag or, if your dish as a lid, you can place the chicken directly in the dish you made the marinade in.
Allow chicken to marinade for at least 2 hours in the refrigerator; up to 24 hours will allow more flavors to meld.
Soak your wooden skewers in cold water for at least an hour to avoid burning.
When your chicken is ready, thread your chicken, pineapple, peppers, and onion alternating on skewers.
Pre-heat grill to medium high heat and lightly spray with cooking spray. Place skewers on pre-heated grill and grill for 15-20 minutes, turning and basting with the marinade you originally set aside every five minutes. Chicken is fully cooked when meat thermometer reads an internal temperature of 165 degrees.
Our recipe was adapted from allrecipes.com and cookingclassy.com
Steak and Vegetable Kebabs
Ingredients – Marinade
1/4 cup Worcestershire sauce
1/4 cup soy sauce
1/4 cup olive oil
1 Tbsp dijon mustard
1 Tbsp freshly minced garlic OR ¼ tsp garlic powder
1 Tbsp brown sugar
2 Tbsp lemon juice
1 tsp dried basil
1 tsp dried parsley
1 tsp black pepper
Ingredients – Kebabs
1 ½ lbs of sirloin steak, stew steak, or steak tips cut into 1 inch cubes
8 oz. Cremini

mushrooms

1 red onion, cut into 1 inch chunks
2 red bell peppers, cut into 1 inch chunks
2 zucchini, cut into ¼ inch thick rounds
Directions – please see directions under our chicken kebab recipe for more detail
Follow the same instructions above for your marinade. Combine all ingredients and marinade steak for at least 2 hours. The longer you marinade, the more flavors will combine.
Soak skewers
When ready, pre-heat grill to medium high heat. Thread your ingredients on your skewers.
Grill for 8-10 minutes, rotating every 2-3 minutes. This will grill the meat to about medium rare to medium. If you like your steak a little more well done, continue cooking a few more minutes.
Allow kebabs to rest five minutes off the grill before enjoying.
Source for this recipe is House of Nash Eats
#3-Fancy Burgers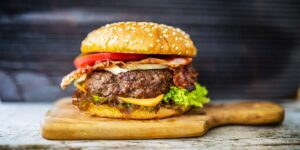 Burgers are awesome because you can dress them up as much as you like or enjoy them in their simple form – both taste great! Plus, ground beef can usually cost around $5.00-$8.00 per pound. This makes an affordable meal for approximately three adults.
Directions
Form ground beef into patties, approximately 6 oz. each. Indent each burger and season with salt and pepper. Grill patties, indention side up, approximately five minutes. Flip and grill on the other side about three minutes. If you are adding cheese, place it on top of burgers for the last minute of grilling. Close grill to melt cheese.
Topping Combos We Suggest:
Jalapeno, bacon, cheddar cheese
Blue cheese, buffalo sauce, LTO
Fig jam, brie cheese, LT
Ketchup, mustard, pickles, cheese of choice, LTO – traditional!
*grilling your onions also tastes great
*L = lettuce; T = tomato; O = onion
#4-Lemon Garlic Tilapia
This delicious dish came from Budget Bytes and this website will tell you exactly what you will pay per serving for all the recipes they've archived. White, flaky fish (of which tilapia is one) will usually be the least expensive. Other options are cod, catfish, grouper, bass, and snapper.
Ingredients
4 3 oz. tilapia fillets
½ bunch of fresh parsley, finely chopped
2 medium lemons
2 cloves of garlic, finely chopped or pressed OR 1/4 tsp of garlic powder
2 Tbsp olive oil
1/4 tsp salt
Pepper to taste
Directions
The recipe from Budget Bytes calls for a food chopper but this can be made without. If you do not have a food processor or chopper, whisk together your pre-chopped parsley, garlic, juice of ONE lemon (the other will be used for garnish), olive oil, salt and pepper.
Place fish in a shallow dish and pour your mixture over the top of the fish. Make sure both sides are covered.
Pre-heat grill to medium heat and spray with non-stick cooking spray.
Place fish fillets on hot grill, close the lid and grill for two minutes. Check your fish, flip and cook one more minute or until fish is completely cooked through.
Serve with additional lemon slices.
#5 – Cilantro Lime Chicken Drumsticks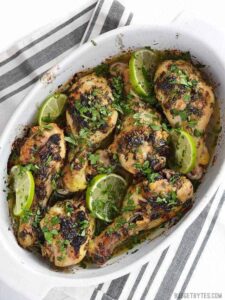 This recipe is also adapted from Budget Bytes. Drumsticks are usually a cheaper cut of the chicken so this will help save a bit. Great side ideas for this recipe are macaroni salad, coleslaw, potato salad, or a traditional green salad.
Ingredients
2

Tbsp

olive oil

4

cloves

garlic, finely minced

OR ½ tsp of garlic powder

1/2

tsp

cumin

1/2

tsp

salt

Freshly cracked pepper

2

limes

1/2

bunch cilantro

6

chicken drumsticks (about 1.75 lbs.)
Directions
Combine all ingredients through pepper in a bowl. Zest one of the limes for approximately 1 tsp of zest. You can use a small hole cheese grater if you do not have a zester. Add the zest and juice from one lime to the marinade. Finely chop up half your cilantro and add this to the marinade as well. The other half of the cilantro will be used as garnish.
Add chicken to marinade, either in a zip lock bag or if your bowl or shallow dish has a lid, the chicken can go directly in. Refrigerate and marinade for at least two hours, up to 24 hours.
When ready to grill, pre-heat grill to medium high heat. Place chicken on pre-heated grill and cook for 30-35 minutes, rotating about every five minutes. Continue to baste with remaining marinade as you rotate your chicken. Unlike chicken breasts, drumsticks should be cooked to an internal temperature of 180-185 degrees.
#6 (bonus) – Dessert
We had to add this bonus because who doesn't love dessert?? Grilled fruit makes a refreshingly sweet end to any meal. Our favorites to use are peaches, plums, nectarines (or really any stone fruit), bananas or pineapples. Top it off with your favorite ice cream – ours comes from a local Paso Robles creamery, Negranti Creamery. Any flavor or brand will taste great though!
Directions & Tips
It's important that fruit remain a little firm so it doesn't completely fall apart on the grill. Avoid using overly ripe fruit. Also, don't cut your pieces too small. For stone fruit we recommend simply cutting in half and removing the pit. For bananas, cut lengthwise in half and for pineapple, cut into ½ inch rounds (remove skin also).
Lightly brush your fruit with a neutral tasting oil to give it a nice grill. You can also sprinkle granulated sugar (or we like brown sugar) over the oil for extra caramelization and sweet. Place fruit cut-side down on the grill first.
Grill on medium heat for about five minutes or until nice grill marks appear.
Enjoy with your favorite ice cream.
Ice Cream & Fruit Combo Suggestions:
Stone fruit with vanilla bean, cinnamon honey, OR buttered pecan ice cream
Bananas with chocolate ice cream OR peanut butter ice cream
Pineapple with mango sorbet
Flavor combinations can also be achieved with using clover honey, ground cinnamon, mini chocolate chips, cream cheese – get creative!